---
GDC Number: 105902
Dr Defkalion Alexakis, also renowned locally as Dr Alex, is an enthusiastic dentist with a special interest in cosmetic dentistry and contemporary orthodontics.
He completed his A-levels in the private school Anatolia, the American College of Thessaloniki in Greece and graduated with a Diploma in dentistry from the University of Aristotle in the same city in 2003.
In the first steps of his career he worked for 3 years with his father at their private dental practice in Thessaloniki, gaining a lot of experience in general dentistry.
He relocated to the United Kingdom in early 2007 and lives and works here ever since. In the past decade Dr Alexakis completed successfully a large number of post-graduation courses in various aspects of modern dentistry and in different universities throughout the country. He also attended a great number of lectures and conferences as part of his commitment to continuous professional development, most of them in various aspects of cosmetic dentistry: contemporary orthodontics, modern white fillings, composite wet bonding and teeth whitening.
Senior Master Provider Master in the Fastbraces® technology, the new method of contemporary, short term, aesthetic orthodontics which require a small treatment duration, no extractions and have permanent results. Dr Alexakis was one of the first dentists that became a scholar of Fastbraces® (2104) when they first became available in the UK, and after continuous focus on the subject he has been awarded the Master Affiliate in Fastbraces® title in late 2016, and became a Senior Master Provider in 2017.
Advanced Anterior Restorative and Aesthetic Dentistry, London Dental Teaching Centre, Harley Street. (Jan-July 2010). This course was dedicated to the most modern techniques of smile design and smile makeover, with the use of porcelain veneers and crowns. The director of the course was Dr Bazil Mizrahi, one of the most renowned cosmetic dentists in Harley Street, London.
Oral surgery, University of Preston, Lancashire (1 year-2010). This course was dedicated to the surgical extraction of impacted wisdom teeth and difficult roots.
Endodontology, University of Chester (1 year-2011). This course was dedicated to modern root canal therapy.
Implantology, University of Salford and Trafford General Hospital, Manchester (1 year-2012). This course was dedicated in the restorative and surgical aspects of the most popular implant systems (Astra, Straumann and Nobel Biocare).
After having worked for a few years in the NHS and a couple of years as a fully private dental associate, in 2012 Dr Alexakis started his own business in Market Rasen, where he converted an existing dental practice into a modern cosmetic and private dentistry centre.
Due to his commitment to high standards of dental care and his advanced knowledge, skill and equipment for all private dental care procedures, dr Alexakis together with his experienced and friendly team, have driven You Smile Dental Care to be one of the most successful and well reputed private dental practices in the area.
Dr Alexakis favourite field is the combination of contemporary orthodontics and smile design with porcelain veneers. He has a lot of passion for cosmetic dentistry and relentlessly chases the aesthetic detail in smile design. It is his great belief that in order to build a great smile with porcelain it is of the outmost importance to firstly position the teeth in the perfect place, and on this belief he developed his skill in quick results orthodontics and the Fastbraces technology.
---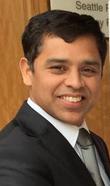 GDC Number: 79699
Dr. Priyadarshan Gaitonde (Gaity) has a Fellowship in Dental Surgery from the Royal College of Surgeons of England. He undertook advanced 1-2-1 training in dental implants at the Charles Clifford Dental Hospital, Sheffield and has since developed an extensive experience in dental implants. He has trained in Short-Term Orthodontics (STO) and is a provider of Clear Tray Aligner Systems.
Gaity is committed to enhancing and updating his knowledge and skills by attending meetings and workshops relevant to his clinical work. In his spare time he enjoys running, swimming and badminton.
Gaity is our regular part time associate for Implant Dentistry only. Gaity has many years of experience in Implant Dentistry, he has joined our team in the beginning of 2017 and since he has been placing successfully many implants for You Smile Dental Care.
---
GDC Number: 166101
After graduating from India, I completed my statutory examination in U.K in order to be registered as a dentist with the General Dental Council. I am currently pursuing my Masters in Dental Public Health from Manchester University via distance learning. I have attended several post-graduate courses in order to keep my knowledge and skills up to date.
I have a keen interest in preventive dentistry and periodontics.
I treat my patients the way I would want to be treated and strive to give every patient a comfortable, stress free and rewarding dental experience. I have found every member of You Smile Dental Care to be very pleasant, professional and caring and I consider myself very fortunate to be part of the team. Apart from work, I love spending time with my family and friends.
---
GDC Number: 202709
Lisa J. Davis is the lead nurse of our dental practice. With 23 years of experience as a dental nurse she is a very reliable member of staff. She has gathered most of her experience working in London along side many private and NHS detists.
Lisa qualified in 2010 at Lincoln college, Lincolnshire but she was working as a dental nurse long before that. She has been doing advanced 4-handed dentistry (=when the dentist is working with magnifying loupes) with Alex since 2013 and has also attended Fastbraces courses, as she really enjoys the practice's focus in orthodontics. Always friendly and humorous, Lisa is a mother of two and enjoys walking in nature, listening to music, and watching sports on the Tv.
---
My name is Jennifer Justice and I started working at You Smile Dental care in May 2017. I qualified as a dental nurse in 2014 and have been working for the past few years in both private and NHS practices. During this time, I have completed further training in areas such as implants, Invisalign and medical emergencies. I have diplomas in dental nursing and patient care and the role of the nurse in a surgical role. I work as the receptionist/business administrator at the practice.